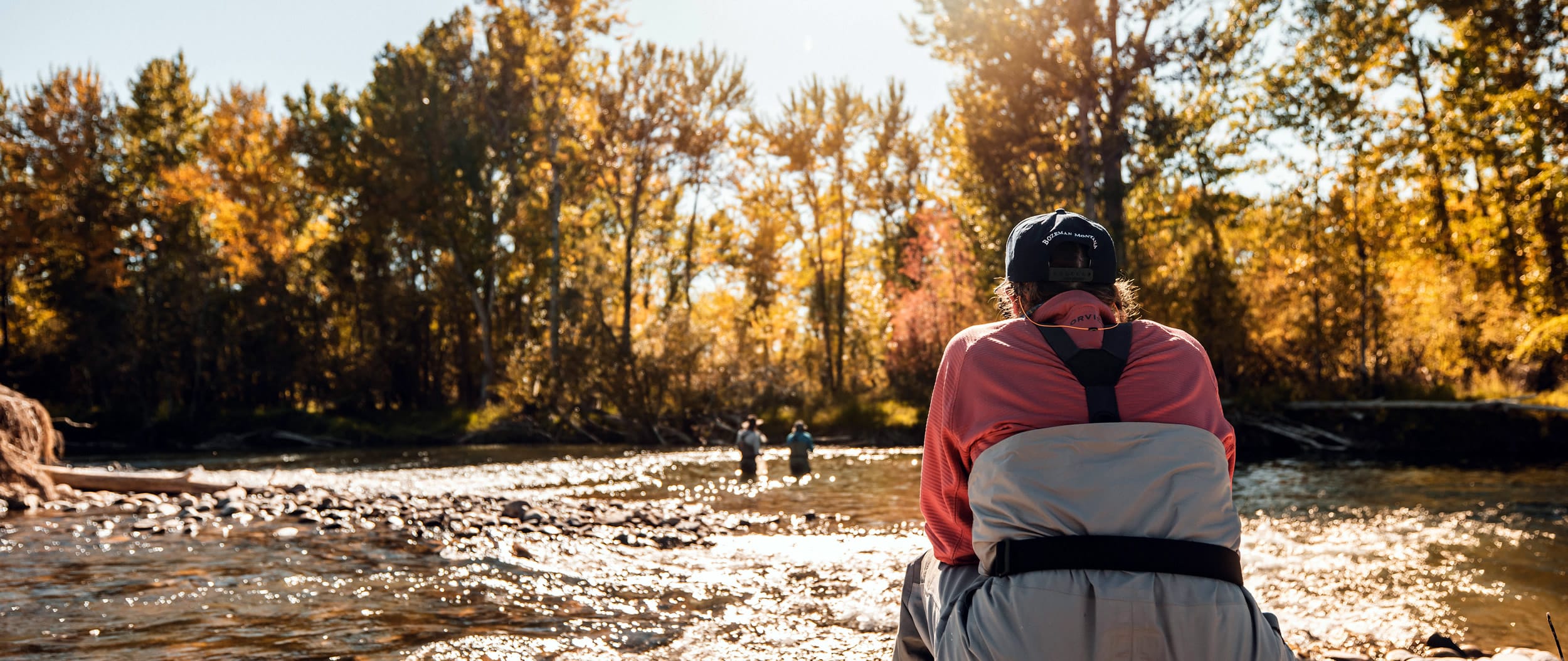 Things to Do in Bozeman
Enjoy countless adventures that are within a quick drive making us your perfect home base for exploring beautiful Bozeman in Southwest Montana.
Add another character to your storyline by trying something new or stay cozy and comfortable knowing what happens when you turn the page. The choice is yours and the options are endless.
Southwest Montana offers one of the highest concentrations of blue-ribbon fisheries in the world. We offer private access to the Gallatin River within five minutes of the lodge, and the iconic Yellowstone and Madison Rivers are less than an hour away. The Jefferson and Missouri Rivers, private spring creeks, and alpine lakes are additional options – so the greatest challenge is deciding where to go.
Our professional guide service partners provide outstanding expertise in getting our guests out on the waters that are fishing the best during your visit. Novice and highly experienced anglers alike can enjoy our seamless fishing program. Our guide rates include rods, reels, terminal tackle, river transportation, and a packed picnic lunch. Guests are welcome to ship gear to the lodge in advance as well.
Gallatin River Lodge is lucky enough to be located close to Rocky Mountain Rotors home base in Bozeman. Gallatin River Lodge guests can now get an unforgettable Montana experience from the sky.
Photograph main attractions in Yellowstone, take in the Teton Range. Fly over the mountains surrounding Bozeman and Big Sky. Go home with incredible pictures of mountain goats, elk, bison, and deer (occasionally bear, bighorn sheep, moose or wolves!).
Visit Rocky Mountain Rotors for current Pricing > rockymountainrotors.com.
Experience the picturesque views of mountain peaks and rolling countrysides as you float above the gorgeous landscape of Montana. Relax and take in the breathtaking sights as you rise above the ground, checking off an exciting item on your bucket list. There is truly no better way to see the beautiful Gallatin Valley!
We offer flights seven days a week at sunrise, which last approximately an hour. The entire experience lasts three hours, and transportation is provided to and from the launch and landing sites. Flights are by reservation only.
Montana Whitewater run Big Sky & Yellowstone white water rafting trips on the Yellowstone, Gallatin, and Madison rivers. All three of these rivers flow out of Yellowstone National Park. They are among the most beautiful and pristine waters in the lower 48 states. We have everything from technical class IV rapids, to fun splashy class II and III rapids, to scenic relaxing class I rapids. Yellowstone & Big Sky whitewater rafting trips are fun for the whole family!
Montana Whitewater  offers the highest quality and ONLY guided Yellowstone zipline experience in the Greater Yellowstone area. They offer tours out of two locations near Yellowstone Park. Both options offer a unique experience that will enhance your connection to this amazing place and the diverse geography that makes the Yellowstone Ecosystem so rare.
All sorts of mountain sports and activities for the whole family! Cross country skiing, snow shoeing, biathlon courses, day and night time activities, dog friendly etc…https://www.crosscutmt.org/
1 hr 30 minutes to either the West Yellowstone or Gardner North entrances.
https://www.nps.gov/yell/index.htm
Let us know your interests and our local staff will help plan your perfect day.
Recreation, entertainment, shopping, natural wonders, and historic sites are all within minutes.