Dining
The dining room is your novel getting movie rights
This is the heart of the lodge, relaxed, vibrant, and intimate featuring floor-to-ceiling views of the trout pond, open pasture, wildlife, and epic sunsets in the big Montana sky. Savor elevated and creative Montana classics focusing on quality local ingredients. You will be surprised how simple can be so exquisite. We take pride in our handpicked selection of world-class wines and local microbrews.
We are excited to welcome noted Executive Chef Joshua Dicks to our team.
Happy Hour: Tuesday – Thursday from 4pm-6pm
$10 glasses of wine, select cocktails, and food specials
Our Dining Room will be closed from April 2nd through 30th. We will reopen in May!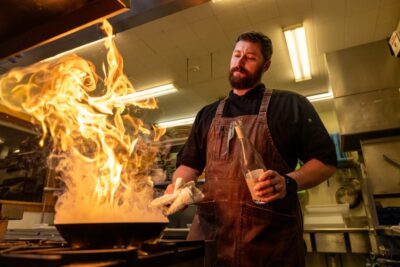 Joshua Dicks passion for food extends over 20 years with experience across the country. His career background includes cooking cuisine in Montana, Washington, Arizona, and Hawaii. Joshua has excellent tenure as he has grown and honed his cooking techniques within the same Montana company for 25 years. He has received 2 Golden Totem Awards for outstanding leadership and teamwork.
Joshua is an expert in menu development, high-volume events, private in-home dining and is authentic Montana.
Joshua lives in Bozeman with his wife and son.
"Gallatin River Lodge was really very good. Rooms extremely well equipped, with Jacuzzi bath and shower, large TV, fireplace and a large comfortable bed. Meals were up to superb standards and well patronized by local folks. It is more than simply an excellent fishing lodge: they are open all year and arrange other activities for guests. My guide was excellent and an enjoyable fishing partner."
– Nigel, Cyprus